Who are we?
Speaking of Dogs Rescue Program is a Canadian registered charity.  We are a volunteer-based dog rescue in Toronto that is dedicated to assisting dogs from shelters as well as taking in dogs surrendered by their owner when space allows.  We have a focus on helping senior dogs. Our dogs are lovingly cared for in foster homes until we find them a suitable forever home.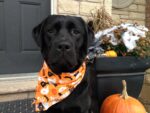 Speaking of Dogs Rescue* is also a member of an umbrella charity Helping Homeless Pets.
Mission Statement
Our mission is to help homeless dogs in need by providing shelter or sanctuary, necessary medical care, adoption and education.
Goals
To offer shelter or sanctuary for dogs, provide them with any needed medical attention, and actively seek new homes for rescued dogs.
To relieve the suffering of dogs in need of care and attention and in particular provide and maintain rescue homes or other facilities for the reception, care and treatment of such dogs
To promote humane behaviour towards dogs by providing appropriate care protection, treatment and security for dogs which are in need of care and attention due to illness, maltreatment, or poor circumstances.
To educate the public in matters pertaining to the welfare of dogs in general and the prevention of cruelty and suffering among dogs.
What We Do
Since 2001, Speaking of Dogs Rescue has helped transport, foster, vet and re-home thousands of dogs. All dogs entering our rescue are spayed or neutered, microchipped and have their medical needs attended to. Although the majority of dogs we admit into the rescue are from Ontario and Quebec shelters, we also work with Northern Manitoba rescue organizations to help dogs from indigenous communities.  When space allows, we are able to take owner surrendered dogs; we have a strong focus on helping senior, palliative, and special needs dogs. Our dogs are lovingly cared for in foster homes until a suitable forever placement is found. Our adoption process entails a written (download the Word document) or online application, a telephone interview, reference and veterinary checks and an in-home visit. We are dedicated to placing our dogs in homes that are responsible, caring and compassionate. We are committed to a dogs' quality of life and adopt only to suitably matched applicants. Adopt one of our dogs today!
We actively fund raise in an effort to help cover rescue related costs such as medical care, grooming, boarding, food and supplies (such a microchips, collars, harnesses and leashes).
We are always in search of new foster homes where a dog can be cared for and loved until a permanent home is found.  Read about how to become a dog's foster parent.
About our Founder
The founder of Speaking of Dogs Rescue is Lorraine Houston.  Even as a child Lorraine's passion for dogs was evident but officially and professionally she has close to 35 years "in dogs" when she began her career at the Toronto Humane Society. Throughout the years her experiences have included shelter work and management, Animal Control Officer, SPCA cruelty agent, dog trainer, Therapy Dog evaluator, canine behaviour seminar organizer and host, animal advocacy committee member, Hurricane Katrina transporter and dearest to her heart – dog rescue and foster mom.  A two-time Maxwell award winner from the Dog Writers Association of America, Lorraine has penned numerous magazine and newspaper articles in an effort to raise awareness about the plight of homeless dogs, the puppy mill industry and the rewards of positive, motivational dog training. She currently writes the pet column "Critter Chatter" for the North York Mirror newspaper and the Adopt-a-Dog column "Houston, I Need a Home" for Dogs, Dogs, Dogs newspaper. She launched Speaking of Dogs Rescue in 2001 when an old friend from the Toronto Humane Society called her to come and meet a dog who was at Toronto Animal Services and would benefit from a rescue organization.
Financial support for the many medical procedures required, microchips, food, supplies and professional grooming can be made through our Canada Helps page.
Please contact us to arrange any other donations.
Thank you!
Social Media
Follow us on social media to hear about upcoming events, adoptions or just see pictures of adorable dogs.
• Facebook (like us and share our updates)
• Twitter
• Instagram
*Speaking of Dogs Rescue is the operating name of Speaking of Dogs Rescue Program, a not-for-profit charitable corporation in the Province of Ontario
Charity Registration Number: 841098791RR0001