Here are a few of our many dedicated volunteers:
LORRAINE HOUSTON, Founder and President
Even as a child Lorraine's passion for dogs was evident but officially and professionally she has 40 years "in dogs" when she began her career at the Toronto Humane Society in 1980. Throughout the years her experiences have included animal shelter work and management, Animal Control Officer, SPCA cruelty agent, dog trainer, Therapy Dog evaluator, newspaper columnist, seminar organizer and host, animal advocacy Board member, Hurricane Katrina response team, canine behaviour training and assessments and dearest to her heart – dog rescue and fostering.

A three-time Maxwell award winner from the Dog Writers Association of America, Lorraine has penned numerous magazine and newspaper articles in an effort to raise awareness about the plight of homeless dogs, the puppy mill industry and the rewards of positive, force-free, motivational dog training. She launched Speaking of Dogs Rescue in 2001 when an old friend from the Toronto Humane Society called her to come and meet a dog who was at Toronto Animal Services and would benefit from a foster-based rescue organization.
LINDSAY BAUCKHAM, Vice President
In 2000 Lindsay adopted her first Shih Tzu "Raggs" from Toronto Animal Services and her life changed forever. She could not imagine how she had ever lived in a home without a dog. In 2002 Lindsay became a Foster Mom for the Ontario SPCA and adopted her second forever dog "Buddy" from them. It was thanks to Buddy that Lindsay met Lorraine Houston from Speaking of Dogs Rescue and in 2006 Lindsay joined the foster parent program. Since that time she and her 3rd forever dog Riley have successfully foster 34 dogs for Speaking of Dogs Rescue – including the wheaten terrier puppy adopted by Cathy Vandergeest and her husband. While her full time job has taken her way from fostering, Lindsay continues to enjoy participating in all aspects of the rescue, from volunteering at fundraising events to dog transports and her Board duties.
KATIE SAICH, Board Treasurer
Katie grew up with a love for animals but it was not until she was 19 when she got her first dog Lady, a beautiful all white Bull Terrier and it was love at first sight. Shortly after her 'brother' arrived, Bruce, a cheeky rambunctious bully. After Lady and Bruce passed over to rainbow bridge, she made a commitment to help dogs in need. Katie has been volunteering for Speaking of Dogs since 2013, and in 2015 became the Board Treasurer. Katie is a Finance Manager at Bell Canada and by applying her skills, experience and knowledge of finance, is able to contribute to helping dogs in need, a passion close to her heart. Katie's most recent addition to the family is Rigo, a rescue dog who loves nothing more than chasing his frisbee at the park.
KIM GLADDING, Fundraising & Volunteer Coordinator, Board Secretary
Kim has been involved in dog rescue since 2002 and joined Speaking of Dogs Rescue in 2008.  She's always had a passion for animals, which is often recounted when her parents tell stories of all the strays she brought home while growing up.  Despite holding down a full-time job, Kim believes volunteering to help rescue animals is what she's meant to do in life.  She enjoys being the volunteer and board member since it allows her to put her organizational skills to good use, raise awareness and guide a fabulous team of volunteers in their endeavours to raise much needed funds to help the rescue dogs.  Kim currently shares her home with her husband and her Speaking of Dogs Rescue girls Nikki and Shyla.
LINDA KNOWLES, Director
There was always a dog in Linda's life until retirement and extended travel made it unfeasible. Luckily, she now gets to spend time with her "grand-dog",Tessa.  Until they sold their home, Linda and her husband Ron fostered nursing mother cats and their litters for Toronto Animal Services. Cats or dogs – Linda is ready to help animals in need. She came to know Speaking of Dogs Rescue while volunteering at a local SPCA shelter where she also served on that shelter's board and has continued her life-long interest in dogs, their health and well-being. While working in the corporate world, she was a long-standing member of the Board of Directors of The Ontario March of Dimes and served as the Board's President. A particular focus of hers was board governance and development. In retirement, Linda has continued with life-long learning in areas of interest and works on improving her French language skills. She also volunteers to help foreign-language students improve their conversational English.
IAN HOUSTON, Bookkeeper
Ian is our volunteer bookkeeper and has been for many years.  He spends a great deal of time paying veterinary invoices, processing reimbursements, getting tax receipts done, coding and organizing our fundraisers and balancing the books.  He works closely with our volunteer Board Treasurer, Katie.  We are grateful to have Ian on our team; he is generous with his time and bookkeeping experience. All he asks in return is a bit of dog love as seen in his picture. Foster dog Maxine is quite smitten with Ian and is always ready to help balance the books especially if it includes sitting on his knee.
NANCY FORAN, Newsletter Editor
Nancy can't remember what came first, her love of animals or her love of language, but both have featured prominently in her life for as long as she can remember. Growing up, when not playing with the family dog, she would generally be reading. She acquired her first rescue pet while still in university, when she took in a kitten from a litter that had been abandoned in a barn. A cat from the Toronto Humane Society followed a few years later, and a few years after that she applied to adopt a dog from Speaking of Dogs Rescue. After a brief conversation with Lorraine she decided to foster instead and provided temporary homes for three wonderful dogs. She failed fostering 101 with her fourth foster, Bailey (Lincoln at the time), a beautiful American Eskimo cross. She works full-time as a freelance copyeditor and proof reader, and she shares her home – and home office – with Bailey, her cat Homer (adopted from Annex Cat Rescue), and her boyfriend.
SARAH KAPP, Newsletter Design
COMING SOON
GERRY BARTON, Social Media
Gerry was honoured to join Speaking of Dogs in 2010, originally volunteering as a foster home. Her love and respect for the work Speaking of Dogs does inspired her to take on a more active role in the rescue with the goal of increasing awareness and encouraging more people to Adopt not Shop. Currently Gerry manages the Facebook page and twitter account, while always maintaining her role as a serial foster mom. She takes great pride and pleasure in helping the rescue and the dogs entrusted to her care.

Currently she is owned and loved by Speaking of Dogs Alumni, Britt the Beagle and Lily (bunny) the Shih tzu.
MARI-ANNE McCLEARY, Adoption Screener
Mari-Anne recently retired from a 20+ year with Toronto Animal Services. It was there that she started working with Speaking of Dogs and many other wonderful rescues.

She and her husband, Carl, have fostered dogs and done many home visits for the adoption process.  They were "foster failures" when they welcomed adorable Peanut into their family.

Mari-Anne screens potential adoption applications, applications for inclusion in the yearly Ontario Rescue Directory and for the Pet Partner program.  This process includes many phone calls and emails to contact various references.  Lorraine and Mari-Anne have a great time setting up the booths for the Canadian Pet Expos. Recently, Mari-Anne has been overseeing and coordinating volunteers for the Pet Expo events.

She and her husband share their home with three amazing dogs, three great cats, a colony of box turtles, and several aquariums.

They are both very grateful to Speaking of Dogs Rescue and their amazing group of volunteers.  They look forward to helping with continued success and many happy endings!
LEANNE TUCKER, Surrender Screener
Leanne grew up with furry friends of all varieties but has always had a special place in her heart for dogs. In 2002, she changed careers and saw an opportunity to begin volunteering at her local OSPCA where she joined a training program that paired shelter dogs with young offenders to benefit both. Initially, she volunteered clicker training the shelter dogs and later moved into the position of Assistant Dog Trainer with the program. Through this program she became familiar with Speaking of Dogs and attended many seminars presented by world renowned dog experts. Around 2007, Leanne, and a group of friends, organized and implemented an orientation program for all new dog walkers at their local OSPCA branch. In 2011, Leanne started dog walking/training and orienting new dog walkers at her local animal control which she enjoyed doing for 7 years. Currently, she volunteers for a number of rescues doing animal transports, home visits, and adoption interviews. She helps Speaking of Dogs Rescue with surrender interviews. Leanne and her hubby share their home with two amazing dogs they adopted.
COLETTE DI BELLA, Web Admin
Colette has been an animal lover since childhood and having animals in her life is important to her, especially if it means she can help. She's been able to do this in many ways over the years as a supporter and volunteer with the Toronto Humane Society, as a kennel assistant, and as a loving rescue mom.

In 2011, Colette and her husband became foster parents through Speaking of Dogs to Nelly, a spirited Doberman-Lab mix. As a foster mom, Colette became part of the Speaking of Dogs family which gave her an opportunity to see first-hand their amazing volunteer and rescue efforts. She was struck by the organization's passion and knew it was something she wanted to be a part of.

Today, Colette oversees the Speaking of Dogs website, is a member of the online auction team, and is always available to volunteer when needed. She and her husband share their home with their dog Nelly and their cat, Jinx.
MARLO HILTZ, Canine Behaviour Consultant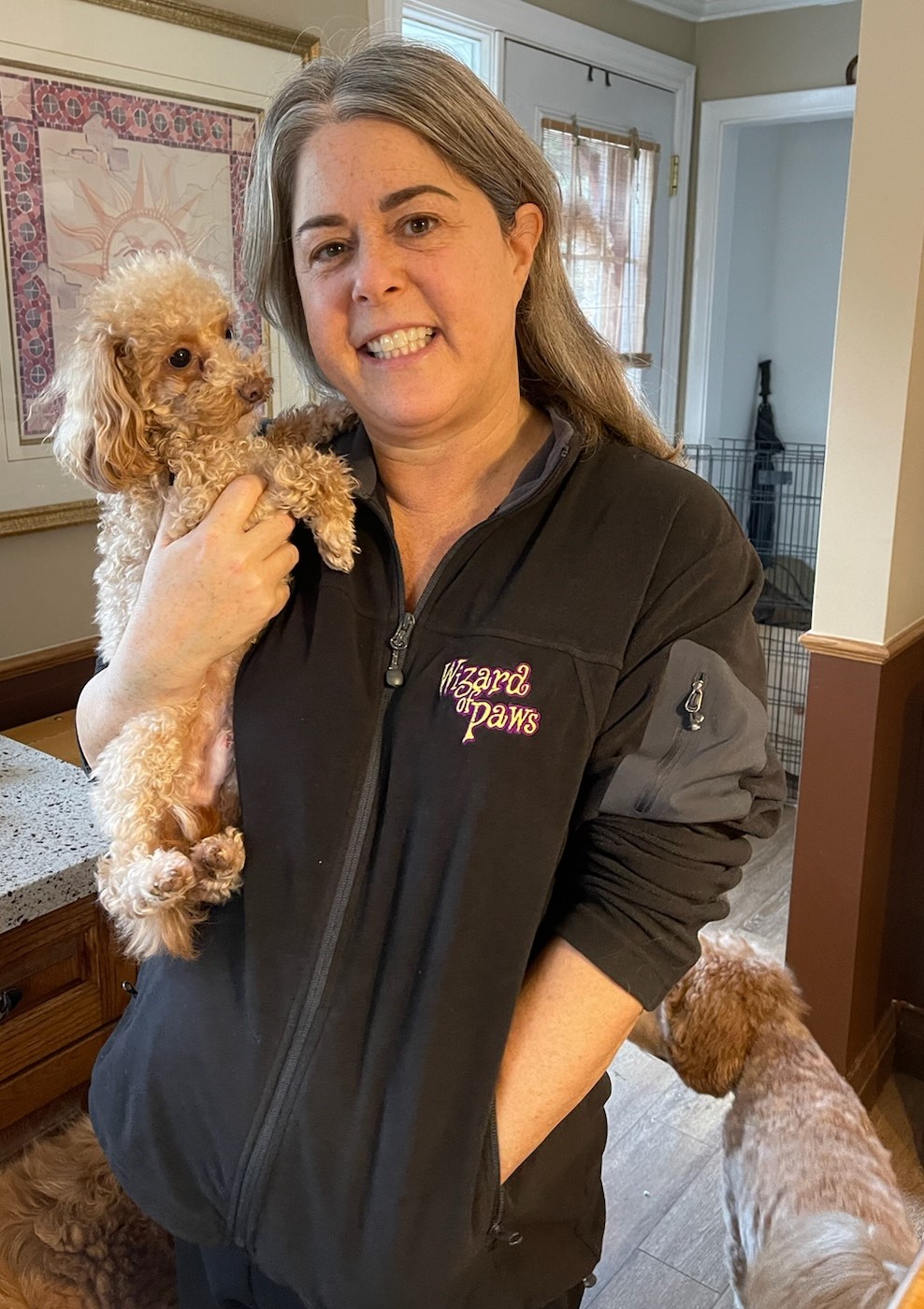 Marlo is our go-to canine behaviour consultant.  She helps our foster parents with behaviour and training situations and challenges. We've known Marlo for almost 2 decades when she came to almost every seminar we hosted!
Working with dogs since 1998, Marlo Hiltz is a certified professional dog trainer with the certification council for professional dog trainers, and an honours graduate from the prestigious Karen Pryor Academy. She is a force-free trainer and is passionate about helping people with their dogs. Marlo lives in Terra Cotta Ontario with her husband Murray and their many rescue dogs.
Marlo and Murray are active foster parents with Speaking of Dogs Rescue and have adopted several dogs over the year.