Forever in Foster – Forever in Our Hearts
Many of you don't see what goes on behind the scenes at Speaking of Dogs Rescue, particularly with regards to the senior dogs in our care. As some of you know, our rescue focuses on compassionate care for senior dogs. When these beloved dogs come into our rescue, they often have needs that are beyond the scope of adoption. Still others are up for adoption for months without finding a forever home, and they eventually become attached to their foster parents. At that point we often feel that it is not in the best interest of the dog to be uprooted and put into a new home, given their age. And so, we keep some of our senior dogs in our Forever in Foster program, which has been running for over six years and has seen many dogs live out their last chapter in a loving, caring foster home, cherished until they cross over to the Rainbow Bridge. Speaking of Dogs Rescue cares for these dogs financially for the rest of their lives, covering their vetting, food, and grooming costs.
We have had some exceptional challenges in terms of health-care costs, but we cannot let these dogs down. If you would like to make a donation to our Forever in Foster program and help us continue to give our senior dogs the care they deserve, please visit Canada Helps.  You will immediately receive a tax receipt, and all funds will go toward Speaking of Dogs Rescue.
We salute our Forever Foster parents and the dogs who are being embraced by the commitment and love of these special volunteers. As well, our fundraising volunteers are an incredible group of doggone dedicated folks, and without their help we would not be able to assist the many dogs who have blessed our lives and touched our hearts.
 Meet Our Forever Fosters
Archie
Archie is a delightful fellow whose owner passed away and her next of kin could not keep him long-term. Friends and family reached out to Speaking of Dogs Rescue to see if we could take him into our Forever in Foster program. We are blessed to have an amazing team of foster moms and dads and the little fifteen-year-old shih tzu/poodle was quickly embraced by one of our foster moms. He now lives with a big bro (another shih tzu mix) and his work-from-home mom enjoying daily walks along the mature treed street, naptime and scrumptious home cooking!
Quincy
Quincy was found wandering in circles but despite his vision and hearing impairment he is very aware and astute about his surroundings. He is much happier and healthier than he was when he first came in.  He no long wanders in circles had has gained weight.  He has a little toy poodle pal he interacts with in his foster home.
Wally
Wally is about 9 years old and so full of love – for humans, not so much other dogs but will walk by another dog respectfully and like a gentleman, but he prefers if they keep their distance and respect his space.
Diesel
This feisty 14 year old toy poodle was left homeless when his senior owner passed away.  He had always been with the same lady and led a quiet life – he must have been so lost and confused when the lady's daughter dropped him off at the foster home.  He was in desperate need of dental surgery and that was done right away by Speaking of Dogs Rescue.  Diesel is in a loving foster home with a wonderful foster mom who cherishes him and tends to his every need.  It took a while but Diesel did acclimate to his new environment and life.  He loves to snuggle and cuddle now with his foster mom.
Jessie
Ten-year-old Jessie is an American Eskimo and Border Collie mix who was living with a house full of young roommates who could not properly take care of him. They listed him on Kijiji as a "free to good home" dog (never a good idea!).  Thankfully, Jessie had a guardian angel who stepped in and took him to her loving, stable home.  She called Speaking of Dogs Rescue to let us know the situation with Jessie.  We immediately took Jessie and his guardian angel under our wing and offered medical treatment for his chronic ear issues.  Due to his some of his anxiety issues we felt it best he stay where he is safe and loved.  His ear challenges are being treated and assessed on a regular basis and some headway has been made.
Maxwell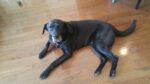 This handsome boy is Maxwell who is approximately 10 years old and was left at a local Toronto shelter. He was diagnosed with hip displacement and arthritis.  Due to his ongoing treatment for pain management we wanted to ensure he would never be without medical attention or be in discomfort so he is now a part of our Forever in Foster program.  Big boy Max lives with a loving retired couple who have embraced him whole-heartedly into their lives. He enjoys his daily strolls, road trips and stretching out for an afternoon nap in front of the sunny window.
Wynton
 Sweet and stunning Wynton was found as a stray just north of the city on a cold and windy December night. He was never claimed despite the efforts of shelter staff. Wynton was examined by the shelter vet who noted his lymph nodes were very swollen and he was quite thin – she suspected there was something serious going on in his weathered, fragile body. One of our long-time rescue friends reached out to Speaking of Dogs Rescue and asked if we would consider taking Wynton into our rescue and getting to the bottom of his health issue through more in-depth tests and diagnostics – our answer – an unequivocal YES! Sadly, he was diagnosed with lymphoma cancer and is being closely monitored. Thanks to his loving forever-in-foster mom, medications and tasty cuisine our Wynton boy has good spirits and quality of life. Ask us about donating a BarkBox for Wynton at Lorraine@speakingofdogs.com.
Annie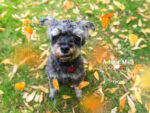 Annie the lovable and charming Schnauzer came into the rescue from a local Toronto shelter as a "stray" in the fall. Her teeth were so badly infected and rotting that she ended up losing most of them during her dental surgery. She also had mammary masses that were removed and sent to the laboratory for analysis. Unfortunately, one of the samples came back malignant and our vet felt Annie should be placed in our Forever in Foster program. Annie is doing great and living the life in downtown TO making friends wherever she goes, keeping it real at the dog park and making sure her foster dad gets to work on time! Once dad is off to work, the girls (foster mom and Annie) make breakfast and work from their home-based biz!