With Thanksgiving just around the corner, plans for big gatherings of families and friends are in the works! While we love to include our pets in everything that we do, this can provide fabulous enrichment for our animals or, sometimes, it's a big source of stress. With any activities involving your dog, the question that needs to be top of mind is "am I doing this for me, or for my dog? Is this something that my dog WILL enjoy, or that I WISH my dog would enjoy?" There are a few things to take into account as you make plans for your family, your friends, your feast… and Fido!
Travel
Many people travel long distances to reach the homes of family and friends. If that's in the cards for you, consider how your dog tolerates long car rides. What will your accommodation be like when you arrive? If you're staying in a hotel, be mindful that hotels often require dogs to be crated when left in the room alone. If you're staying with family, crating might also be a good option to keep your dog from getting into things in your host's home. Being left alone and crated in a new place, with new smells and sounds, is a really big ask for most dogs! If this isn't something your dog can do comfortably, have a Plan B. Setting up a video camera is the best way to find out how your dog manages time alone in the crate, so test this at home before a trip!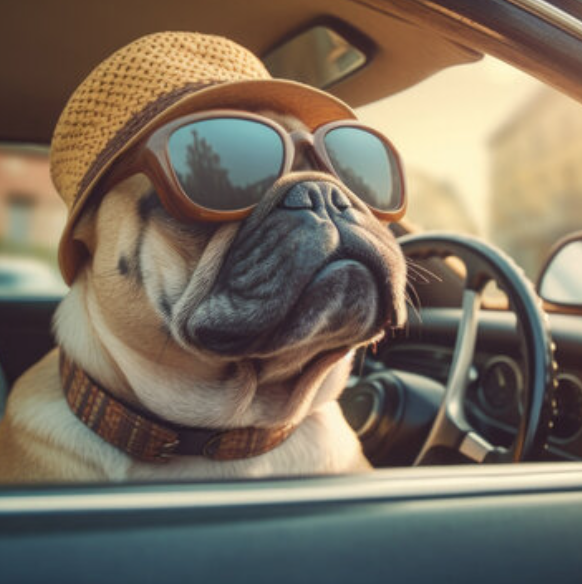 Home Invasions
If you're not traveling, will you have a large number of people – even strangers to your dog – coming into your home? It's not unusual for a dog who welcomes attention from people in public to become testy when people enter their home. If this describes your dog, it would be ideal to find a boarding option for the day of the gathering. Your dog won't have fun at home and, if there's an incident, neither will your guests!
If your dog is very friendly, but easily excited when people enter your home, you can take steps to prevent happy hurricane greetings. Have a family member take the dog out for a long walk during the window of time that your guests are arriving. This will not only give your dog a chance to stretch her legs and get her jollies out, but it will also eliminate the excitement of the doorbell being rung repeatedly, the initial excited greetings between people, and the constant opening of the door. Once your guests are settled in the home, bring your dog back in. There will still be some excitement, though it will be much more manageable!
Party time!
Even with the friendliest of dogs, parties can mean new and potentially stressful excitement. Many gatherings involve alcohol consumption and, along with that, strange behaviour on the part of humans! Be mindful of how guests are interacting with your dog – even if they have the best of intentions, the disinhibition that comes along with drinking can result in less than respectful behaviour toward animals in the home. Likewise, excited or overtired children can push even the most tolerant dog's buttons. Active supervision, eyes-on and hands-on, is key to keeping all parties safe and happy.
It is tough for a dog to get an adequate amount of quality sleep when there's activity in the home, so this should be considered as you plan your party. Is there a person who also needs a break from the activity who can hang out in the bedroom while the dog naps? Many dogs can't settle if they know they are missing out on an activity, so perhaps the car would be a good place for a nap instead! Tired dogs are often grumpy, irritable, or hyper, and having trouble winding down is a common trouble for puppies and young adults in particular!
Other Dogs
Before mixing multiple dogs into the gathering, consider whether your dog can share space and resources with new dogs in a potentially stressful situation. Where we might see a party with friends, your dog might instead see a stranger encroaching on their space and valued resources. If the invited dogs haven't met before, consider arranging several walks together ahead of time, to ensure that the dogs are compatible. If they aren't, you'll have time to make alternate arrangements. Pick up chews and toys if there's any question about whether sharing is a concern. Multiple dogs milling about the dinner table could brew trouble, so that is a good time to keep them separated.
Dietary Indiscretions
Food is central to most Thanksgiving gatherings! Outside of specific food sensitivities, there are some important considerations around keeping your dog safe around the big meal. It's not a problem to share food in reasonable amounts, however eating a large amount of fat can cause a condition called pancreatitis – which is exceptionally painful! If your dog gets a hold of the turkey carcass and slurps up the fatty skin and bone, give the emergency vet a call right away – don't wait for symptoms!
Be proactive in managing your dog's access to not only the food, but also the cooking utensils – like the gravy pot or baking pan. Purchase a baby gate or X-pen to block your dog from the kitchen, particularly when the pots and pans are left unsupervised while you eat. These steps are especially important if your dog is a known counter-surfer!
Instruct your guests clearly on what your dog is allowed to have and in what quantity. Each person feeding a little bit might add up to a lot! Ask them not to feed any bone or fatty foods. If your dog has a sensitive stomach, you might even consider keeping her on leash or crated beside you so you can be sure that no one is slipping her any illicit treats under the table. And of course, she can have her own food-stuffed toy to keep her entertained!
With a little bit of foresight and preparation, you can keep your Thanksgiving gathering fun and safe for your dog, you and your guests. Happy feasting!
With a little bit of foresight and preparation, you can keep your Thanksgiving gathering fun and safe for your dog, you and your guests.
Happy feasting!
Emily is a Certified Dog Behaviour Consultant through the International Association of Animal Behaviour Consultants (IAABC), and a Certified Professional Dog Trainer through the Certification Council for Professional Dog Trainers (CCPDT).
Meet our October Feature Dog: Ernie
Well, hello there! I'm Ernie and I'm excited to meet you.
At about 5 years of age, I am going through the process of self reflection and have learned a few things.
I would love a one-on-one relationship.
I am cool hanging with other animals.
I don't mind being left alone and will jump for joy (with all 4 paws) when you return.
I'm a fun-loving, active fellow, who enjoys walks and play sessions. I also enjoy a good snuggle on the couch, Netflix, and chill.
I love to give kisses. In your mouth, ears, nose, eyes, wherever, I'm not fussy.
I also say what's on my mind and won't hesitate to let you know when I don't like something.
If you try to take something valuable away from me without offering me a trade, I will turn you down promptly. It's apparently called resource guarding. I know sharing is caring but you just can't take my valuables away – I mean, trade with me – yes, I'm all for that.
I'm quite intelligent and learn quickly with the right motivation…like food! I try to stay healthy with fruits and veggies but will never turn down a bit of cheese.
My current foster family keeps telling me I don't need to "mark" but old habits die hard (I was recently neutered, whatever that means). So, as a courtesy, I wear belly bands inside. I don't mind them at all, just another chance for some human touch. Plus, my wardrobe is quite fashionable now.
My new friends also discovered a few health concerns. I have a collapsing trachea, so I wear a harness instead of a collar around my neck. This condition doesn't slow me down but can cause me to cough sometimes.
I also must have my

patellas

(knees) checked by an ortho doc. My kneecaps need a special doc, I'm told. The rescue will pay for this.
Once again, it doesn't slow me down but may be something to address later in life. I can still do stairs but need help in and out of the car and on and off the couch. A little set of stairs works perfectly for me.
One time I was at the vet, and they were doing something to my bum, and I panicked and was asking them "stop, stop" but they kept going and I accidentally bit my very favourite person, my foster mom! I felt so bad I kissed her a million times that night but did not want to go back to the bum vet ever again!
I am 9 pounds of fun, adventure and love!
If you are interested in giving Ernie a place to call home, please fill out an application for our consideration.
Click here to visit our adoption application.

October is Adopt a Shelter Dog Month
Each year October is celebrated as Adopt A Dog Month and this year we could really use your help.
Adoptions have been slow this year and many of our dogs have been with us for quite a while waiting patiently for a family to call their own.  Dogs like Reggie, Ernie, Fifi, Benji, Jelly, Noodles, Pearl, Gizmo, Pogo and Prince
have all been with us for months!
If you can't adopt please share our dogs on your social media platforms or email lists.
You can also follow us on FACEBOOK (Speaking of Dogs) and see our dogs there.
You just never know who might see one of our dogs and open their heart and home.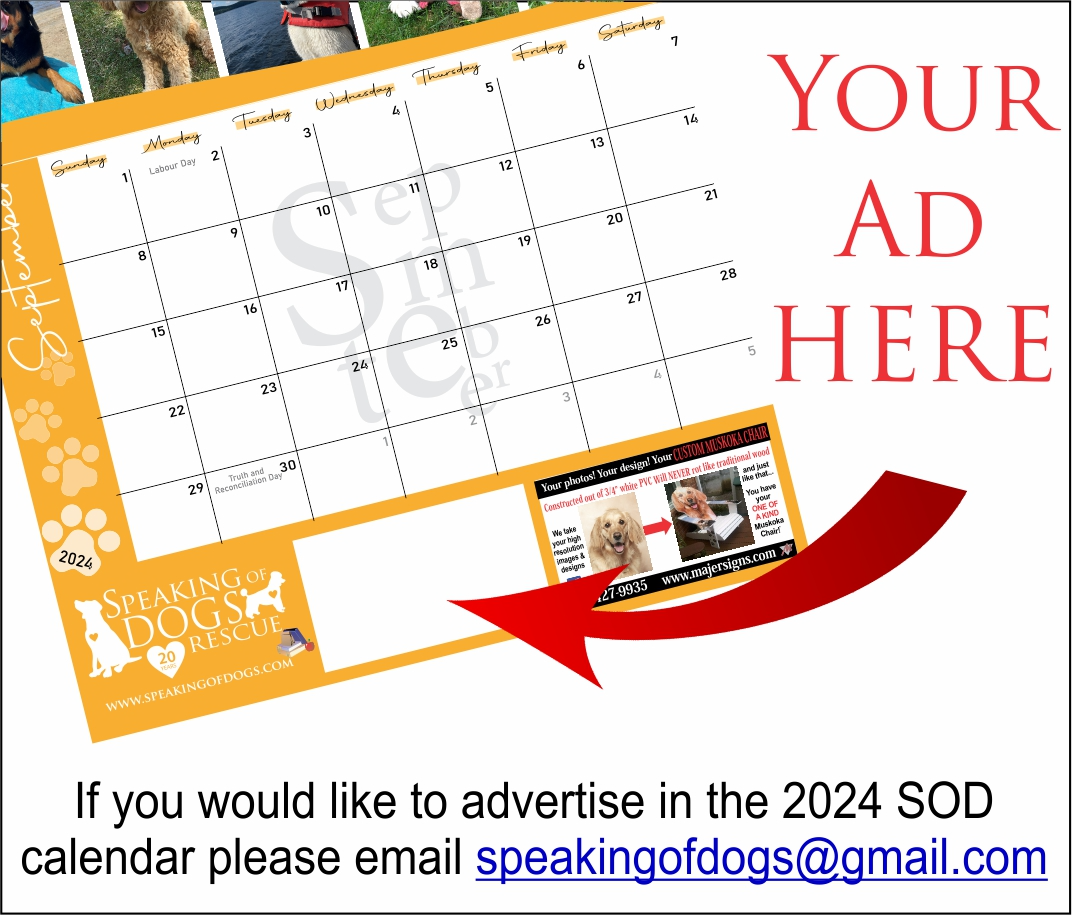 Dear Speaking of Dogs Rescue,
Just thought I'd check in on Gucci's one year anniversary. She's doing great and is a wonderful pet! She's very cuddly and is enjoying her life in Waterloo. Gucci enjoys hiking and we've started a family birthday tradition starting with a hikefollowed by lunch at a dog friendly restaurant or cafe. Gucci likes car rides and has been on vacation at the lake twice now where she enjoys the great outdoors and curling up beside mom at the campfire. She also likes being in the backyard while I'm gardening and she lets me know if there are any people passing by. Thanks so much for your kindness to her and all the other dogs you help.
Sincerely Kathy, Rob, Chip, Gucci and Ozzy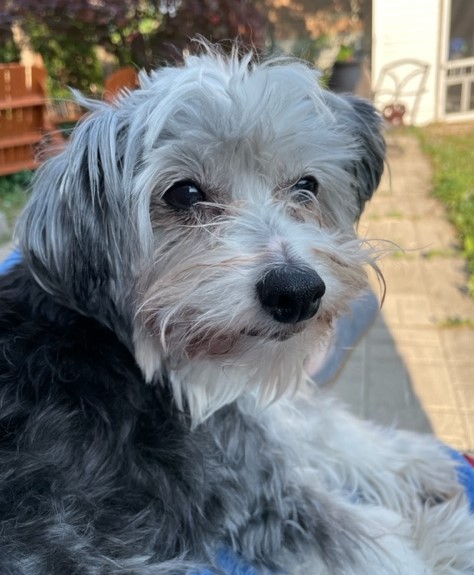 People purchasing gift certificates from FundScrip. Go to FundScrip using our link.

Gifted

– is an online invitation, RSVP management, cash registry and fundraising platform that allows hosts to donate any portion of their cash gifts to a charity of their choice. Speaking of Dogs Rescue can now be chosen as the charity that will benefit from a GIFTED party.
Visit our donation web page by clicking here.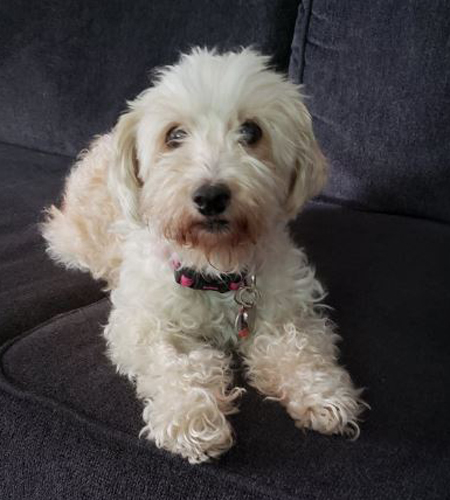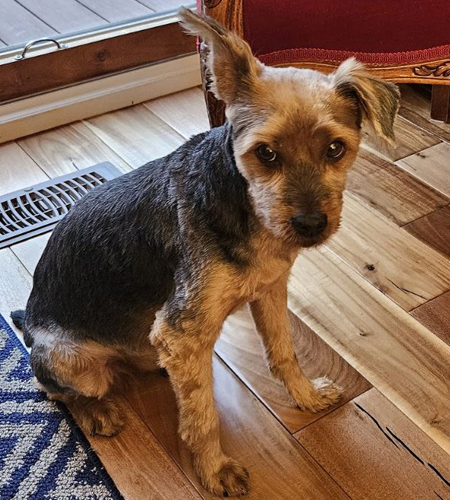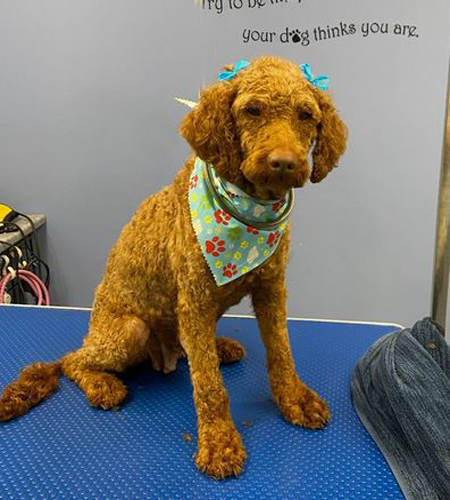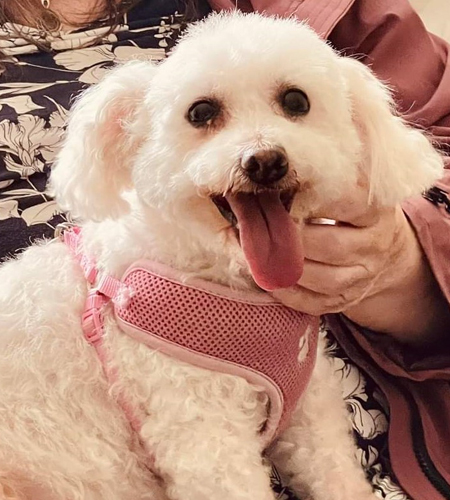 About Speaking of Dogs
Speaking of Dogs Rescue Program is a Canadian registered charity established in the Greater Toronto area (with foster homes across Ontario). Launched in 2001, we are a foster-based, all breed rescue with a focus on senior dogs. We are run solely by volunteers with a mission to help homeless dogs in need by providing shelter or sanctuary, necessary medical care, adoption and education.
Newsletter Team
Contributors: Kim Gladding, Lorraine Houston & Corey McCusker
Editor & Design: Sarah Kapp
Contact Speaking of Dogs
P.O. Box 8058
RPO Hurontario
Collingwood, ON L9Y 0H1
705-444-SODR (7637)
speakingofdogs@gmail.com
www.speakingofdogs.com
Newsletters
If you no longer want to receive our newsletter, email speakingofdogs@gmail.com, with "unsubscribe" written in the subject line.